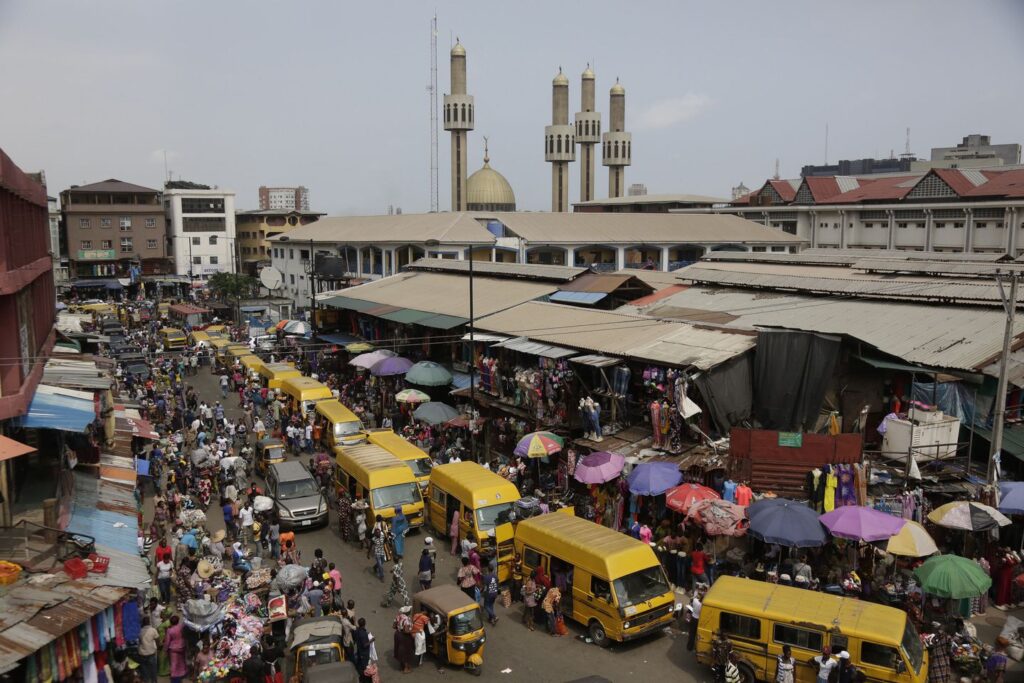 LAGOS, Nigeria — As this port city grew, its slums expanding across the muddy coastline, its skyline rising in glass and metal, residents ran into a problem plaguing all of the world's great metropolises: What should they do with the trash?
Years ago, there was a seemingly easy fix. Trucks drove the waste far outside town, depositing it at the 100-acre Olusosun dumpsite. That began in 1992, when Lagos's population was just over 7 million. Now it's about 21 million, and this is Africa's largest city.
Lagos has expanded well beyond Olusosun, and the cavernous dump now finds itself in the center of the city, a hospital on one side, a primary school on another, and homes hovering just over its precipice. It is directly off the main highway, and a whiff of burning trash sometimes blows across the city's standing traffic jams.
The world now produces more than a billion tons of garbage a year, which it incinerates and buries and exports and recycles. In New York, barges transport as much as 3,600 tons of waste down the Hudson River every day. In the Netherlands, which has a sophisticated recycling system, residents throw away the equivalent of more than 400,000 loaves of bread per day. In Jakarta, residents refer to the Indonesian city's growing dump simply as ''the Mountain.''
The world's garbage crisis — documented over two years by photographer Kadir van Lohuizen — is predicted to grow exponentially in the coming decades as people become richer and increasingly move to urban areas. By 2025, according to a World Bank study, the waste produced by cities around the globe will be enough to fill a line of rubbish trucks 3,100 miles long every day.
Africa, the fastest-urbanizing continent, is full of cities struggling to balance their extraordinary growth with sustainable waste management. Every year, improper garbage disposal contributes to devastating epidemics of mosquito-borne malaria, yellow fever, and other potentially fatal diseases. This year, Lagos has had two outbreaks of Lassa fever, a sometimes deadly virus, spread by rodent urine or feces, that has been linked to poor sanitation.
In August, Nigeria's Guardian newspaper ran the headline ''Epidemic looms in Lagos over piling heaps of waste.''
The city's garbage problem had become impossible to conceal.
It wasn't just Olusosun. With the population surging, some of the city's coastal slums had run out of usable land and started filling in swampy areas with rubbish. Residents of one community, Bariga, agreed a few years ago to allow garbage collectors to use their neighborhood as a dumpsite. They took the trash and extended their property into the bay, covering it with sawdust and building homes on top.
Walking on Bariga's reclaimed land feels like balancing on a trampoline, the ground sinking slightly beneath your feet with each step. Children play barefoot in the trash that hasn't been covered yet. Earlier this year, a flood swept tons of garbage from the city's lagoons into some of its main streets.
''This is development for us. We have no other land to live on,'' said Ibrahim Abadu, 42, a Bariga resident.
Still, if Lagos is a symbol of the worst reactions to the world's garbage problems, it also represents some of the best solutions. It is a city where waste has become an enormous public policy challenge, a source of grave diseases but also a valuable commodity. Across the city, local entrepreneurs and international businesses have opened sorting and recycling plants that export plastics, metals and paper to China and India.
Perhaps nowhere are the dangers and opportunities of trash so clear as in Olusosun, by far the biggest of the city's landfills.
The dump is a dystopian sight, a tower of garbage 10 stories tall with an endless stream of trucks arriving to unload heaps of waste.
''It's an eyesore,'' Lagos's environment minister, Babatunde Adejare, said in an interview. The government has announced that it will shut down Olusosun by 2022.
Today, more than 4,000 people work there, living in tentlike structures atop the trash. When trucks arrive, crowds of men with iron bars and plastic bags pounce on the back, convinced that the most aggressive workers will get the most valuable materials, such as metal cans and plastic bottles. They will then sell those to middlemen, part of a long chain of commercial activity that typically ends on a barge, with recyclable materials on their way to China to be melted and turned into bottles, sandals or clothes.
In the past, some garbage pickers have died or lost limbs when the dump trucks' hydraulics failed and the vehicles' containers crashed down on them. Other workers have fallen ill of unidentified diseases. As Olusosun has grown, it has become associated with the city's darker side. Human body parts have shown up in the trash heap. So have mysterious bags of cash and the relics of witch-doctor experiments, such as herbs and animal skulls.
Still, for decades, people have come from all over Nigeria to work at Olusosun and other nearby dumps, insinuating themselves into a strict hierarchy, with garbage pickers on the bottom and kingpins, running their own small garbage enterprises, at the top. In Lagos, for all the horrors involving waste management, trash is still seen as an enormous economic opportunity.